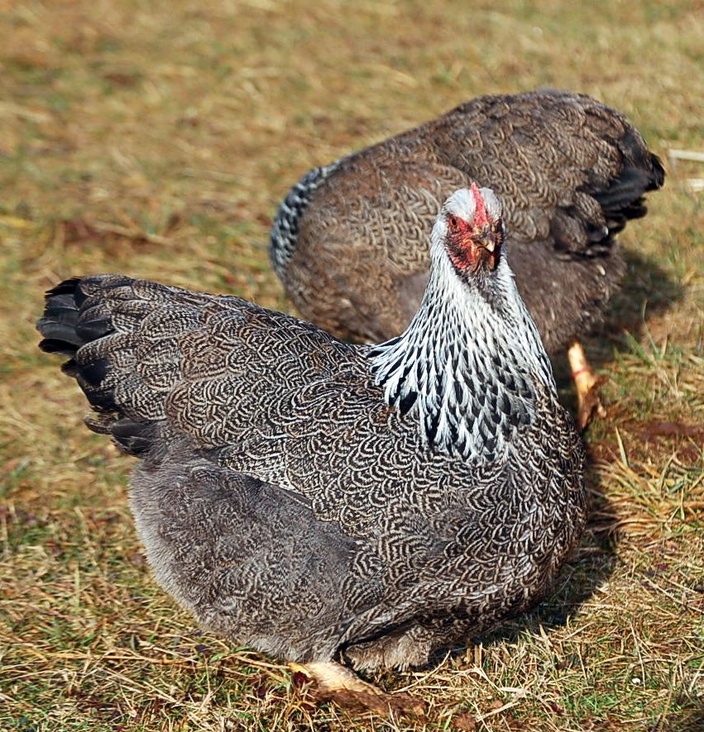 We are very happy to be raising Silver Penciled Plymouth Rock chickens. These beautiful and hardy birds have made an excellent addition to our homestead. Our birds are from Smile Mile Acres in Colton, Oregon and include Die Fly Ranch, Dick Hortsman, Padgett, and Adamson Acres lines.
Silver Penciled Plymouth Rocks are a very rare heritage breed and absolute head turners. They were developed in New York in 1894 and admitted to the American Poultry Association Standard in 1907. This variety is not only stunning, but excellent layers of large cream colored eggs (even over the winter), and great free rangers. The hens have beautiful crisp, dark penciling on their feathers, and the roosters have a striking cape of silvery white over dark bodies with eye-catching green sheen. Both have super silky soft feathers. In addition to their beauty, these birds are solid, hardy, cold tolerant, and docile. — Smile Mile Acres
Fertile hatching eggs are $30/dozen
Chicks (straight run) are $6 each
At this time we are not set up to ship eggs or poultry.
Images on this page are graciously provided by Smile Mile Acres.
To enquire about purchasing chicks or eggs, please submit the following information, and we'll contact you:
 [contact_form id=1]